Posted on
November 30, 2009
by 3BL Media
Posted on
November 30, 2009
by 3BL Media
Plenty happened last week before we all fell into our Tryptophan-based stupors (which, btw, we discovered to be a myth – gasp!). Here at Energy Circle we wrote about how you can put timers to good use over the holiday season, the multi-dimensional beauty of LED holiday lighting, the promise of the proposed Home Star or Cash for Caulkers program and why shopping at Energy Circle is so much better than shopping at the mall.
Filed under: Uncategorized | Leave a Comment »
Posted on
November 30, 2009
by 3BL Media
Yesterday I decided to write down everything I came across that had to do with cause-marketing. What I found ran the gamut from inspiring to somewhat misleading and made me think how ubiquitous this area is becoming, how hard it is to stand for something and how hard it is to stand out. See what you think:
Russian model Natalia Vodianova heads-up the Naked Heart Foundation that helps "to provide a safe and inspiring environment in which to play for every child living in urban Russia." (Really quite inspiring)
The New View Campaign – an initiative that was formed in 2000 "to challenge the distorted and oversimplified messages about sexuality that the pharmaceutical industry relies on to sell its new drugs." (A Michael Moore-esque advocacy campaign)
A full page fundraising ad in the Globe and Mail for the United Way of Greater Toronto. (An intentionally disturbing full page image – one wonders who's paying for all these ads)
A TD Friends of the Environment t-shirt worn by a skater at our local skating rink. (Nice to see that the grassroots intent of this initiative is actually seen at a local level)
A message on a Tampax carton about Protecting You. Protecting Futures – a HERO Partnership. Interestingly, the link provided (www.protectingfutures.com) goes to the Greater Cincinnati Foundation's web site that appears to be one of P&G's corporate partners but doesn't reference the HEROS Partnership at all. (P&G would benefit by bringing more clarity and authenticity to this program).
Perhaps I'll try this once a month just to see what comes up.
Posted on
November 30, 2009
by 3BL Media
There are only nine weeks left for CR stakeholders worldwide to evaluate entrants and vote in the third annual CR Reporting Awards (CRRA`10), the only independent global annual awards for corporate responsibility (CR) reporting. Through Friday, 29th January 2010, registered users of CorporateRegister.com can vote online at http://www.corporateregister.com/crra. Other interested stakeholders are welcome to sign up free of charge at http://www.corporateregister.com in order to vote in the awards.
The CRRA'10 solicited reports published over the last year between October 2008 and October 2009. This year, 130 leading international reporting companies from over 40 sectors entered reports across nine categories:
-Best Overall Report
-Best First Time Report
-Best SME Report
-Best Integrated Report
-Best Carbon Disclosure
-Creativity in Communications
-Relevance & Materiality
-Openness & Honesty
-Credibility through Assurance
Voters may select up to 5 choices in each award category and those with a first choice for each award category are eligible to enter the Voters' Prize Draw and win cash prizes (totalling £2,500).
The CRRA is managed by CorporateRegister.com, the CR resources website and provider of the world's largest online directory of CR Reports. The CRRA identify and acknowledge the best CR reports and reward quality disclosure as a contribution to the raising of global reporting standards.
Filed under: Uncategorized | Leave a Comment »
Posted on
November 30, 2009
by 3BL Media
WWF's One Planet Leaders is a Sustainability Change Programme designed to "help companies align business models with environmental and societal pressures in order to future-proof their business."

From WWF:

Our global footprint now exceeds the planet's capacity to regenerate by more than 30%. The response of the business community to the sustainability agenda is crucial; with an urgent need for new business models, innovation and solutions which are mainstreamed into core practices.

Understanding these complex challenges, and having the ability to meet them, are now prerequisites of good business leadership. To unleash your potential, equip you with the skills to create sustainable business value, and connect you with a vibrant global network of business leaders and experts, WWF offers you One Planet Leaders.

This applied sustainability training will help you develop strategic action plans that build on, and stretch, current company commitments and equip you with skills that are increasingly sought-after in the market place.

You can choose between joining the Full Programme or take stand-alone workshops, depending on your personal needs and available resources.

Visit http://www.panda.org/business/training to learn more.
Filed under: Uncategorized | Leave a Comment »
Posted on
November 30, 2009
by 3BL Media
Today, Milyoni launched iFanStore, a new enterprise e-commerce solution which integrates seamlessly within Facebook, Twitter, MySpace and other Social Networks without ever having to leave those environments.

The iFanStore meets the growing demand to monetize social media by providing a scalable platform specifically designed to suit the needs of mid-and large-scale retailers with complex inventory management requirements. iFanStores leverage the viral potential of social media, allowing sharing of purchases to a customer's friends and fans.

"The Milyoni platform leverages the instant, viral and contextual elements of social networks, which will translate not only into sales, but a richer interaction with customers," said John Corpus, CEO of Milyoni, Inc. (http://www.Milyoni.com).

Bay Area businesses are the first to rollout iFanStores on their Facebook fan pages, including the San Jose Earthquakes and artisan coffee roaster Equator Coffees & Teas. See the shops at:
· www.facebook.com/EquatorCoffees
· www.facebook.com/SanJoseEarthquakes

"We realized early on that social media like Facebook, MySpace and Twitter are great ways to interact with our fans during the season," said Earthquakes executive vice president David Alioto. "The fans on Facebook and Twitter represent some of our most loyal and dedicated supporters to our team and we want to reward their loyalty with great deals and offers."

This year, Facebook's 300+ million active users were on more than 65 million hours, according to the Nielson Company. However, until now, e-commerce solutions pulled fans out of Facebook to complete transactions. The ifanstore from Milyoni allows fans to stay with Facebook during the entire transaction and then share their activity with friends across a wide range of social networks including Twitter.

About Milyoni: Founded in February 2009, Milyoni, Inc. (www.Milyoni.com) is pioneering the category of 'conversational commerce' – which is contextual, viral and instant. Transforming social networking strategies with ifanstore and ireply2buy cloud technologies, the Milyoni platform can be implemented anywhere customers gather online – Facebook, MySpace or any other online community or blog. iReply2Buy, to launch later this year, will enable impulse purchasing via Twitter.
Filed under: Uncategorized | Leave a Comment »
Posted on
November 29, 2009
by 3BL Media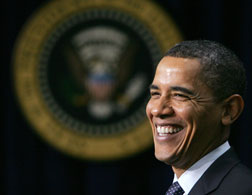 Barack ObamaAbout one thing, left and right seem to agree these days: Obama hasn't done anything yet. Maureen Dowd and Dick Cheney have found common ground in scoffing at the president's "dithering." Newsweek recently ran a sympathetic cover story titled, "Yes He Can (But He Sure Hasn't Yet)." The sarcasm brigade thinks it's finally found an Achilles' heel in his lack of accomplishments. "When you look at my record, it's very clear what I've done so far and that is nothing. Nada. Almost one year and nothing to show for it," Obama stand-in Fred Armisen recently riffed on Saturday Night Live. "It's chow time," Jon Stewart asserts, for a president who hasn't followed through on his promises.
This conventional wisdom about Obama's first year isn't just premature—it's sure to be flipped on its head by the anniversary of his inauguration on Jan. 20. If, as seems increasingly likely, Obama wins passage of a health care reform a bill by that date, he will deliver his first State of the Union address having accomplished more than any other postwar American president at a comparable point in his presidency. This isn't an ideological point or one that depends on agreement with his policies. It's a neutral assessment of his emerging record—how many big, transformational things Obama is likely to have made happen in his first 12 months in office.
The case for Obama's successful freshman year rests above all on the health care legislation now awaiting action in the Senate. Democrats have been trying to pass national health insurance for 60 years. Past presidents who tried to make it happen and failed include Harry Truman, Lyndon Johnson, Jimmy Carter, and Bill Clinton. Through the summer, Obama caught flak for letting Congress lead the process, as opposed to setting out his own proposal. Now his political strategy is being vindicated. The bill he signs may be flawed in any number of ways—weak on cost control, too tied to the employer-based system, and inadequate in terms of consumer choice. But given the vastness of the enterprise and the political obstacles, passing an imperfect behemoth and improving it later is probably the only way to succeed where his predecessors failed.
We are so submerged in the details of this debate—whether the bill will include a "public option," limit coverage for abortion, or tax Botox—that it's easy to lose sight of the magnitude of the impending change. For the federal government to take responsibility for health coverage will be a transformation of the American social contract and the single biggest change in government's role since the New Deal. If Obama governs for four or eight years and accomplishes nothing else, he may be judged the most consequential domestic president since LBJ. He will also undermine the view that Ronald Reagan permanently reversed a 50-year tide of American liberalism.
Obama's claim to a fertile first year doesn't rest on health care alone. There's mounting evidence that the $787 billion economic stimulus he signed in February—combined with the bank bailout package—prevented an economic depression. Should the stimulus have been larger? Should it have been more weighted to short-term spending, as opposed to long-term tax cuts? Would a second round be a good idea? Pundits and policymakers will argue these questions for years to come. But few mainstream economists seriously dispute that Obama's decisive action prevented a much deeper downturn and restored economic growth in the third quarter. The New York Times recently quoted Mark Zandi, who was one of candidate John McCain's economic advisers, on this point: "The stimulus is doing what it was supposed to do—it is contributing to ending the recession," he said. "In my view, without the stimulus, G.D.P would still be negative and unemployment would be firmly over 11 percent."
When it comes to foreign policy, Obama's accomplishment has been less tangible but hardly less significant: He has put America on a new footing with the rest of the world. In a series of foreign trips and speeches, which critics deride as trips and speeches, he replaced George W. Bush's unilateral, moralistic militarism with an approach that is multilateral, pragmatic, and conciliatory. Obama has already significantly reoriented policy toward Iran, China, Russia, Iraq, Israel, and the Islamic world. Next week, after a much-disparaged period of review, he will announce a new strategy in Afghanistan. No, the results do not yet merit his Nobel Peace Prize. But not since Reagan has a new president so swiftly and determinedly remodeled America's global role.
Obama has wisely deferred some smaller, politically hazardous battles over issues such as closing Guantanamo, ending "Don't Ask, Don't Tell," and fighting the expansion of Israel's West Bank settlements. Instead, he has saved his fire for his most urgent priorities—preventing a depression, remaking America's global image, and winning universal health insurance. Chow time indeed, if you ask me.
A version of this article also appears in this week's issue of Newsweek.

Jacob Weisberg is chairman and editor-in-chief of the Slate Group and author of The Bush Tragedy. Follow him at http://twitter.com/jacobwe.
Photograph of Barack Obama by Dennis Brack-Pool/Getty Images.
Filed under: Uncategorized | Leave a Comment »
Posted on
November 28, 2009
by 3BL Media
Peacekeeper Cause-Metics is the first cosmetics line to give donations to women's health advocacy and urgent human rights issues globally. Peacekeeper builds a bridge between extraordinary women in the land-of-plenty with extraordinary women who, just by chance of birth, don't have our resources or opportunities.
Here are the ideals that they pledge to uphold in their business practices:
Slavery Free
Peacekeeper is building a slave-labor free company, so if we think there is any type of exploitation in hours, safety, healthcare, retirement, etc. we are gone.
They are consulting with www.newstandards.com to monitor this.
Fair Wages
Peacekeeper makes sure that the companies we are working with here and overseas pays a fair wage to their employees.
Animal Loving
Peacekeeper does not use any products that have been tested on animals. We also provide vegan products for animal lovers who do not use carmine.
Ethical
Peacekeeper uses the Yamas and Niyamas, which come from Patanjali's Yoga Sutras, in its work. They refer to the concepts of exertion and rest and outline the ways in which a Yogi must find an ethical balance in his or her life. Patanjali says that if a person is truly established in the Yamas and Niyamas they gain powers.
When a Yogi practices truthfulness, ultimately anything he or she says will come true. That's powerful! Or, if he or she practices non-stealing/non-hoarding people will feel so safe around him or her that they will reveal unimaginable secrets and treasures. When we are truly living in non-violence then no negative energy or "enemy" can harm us, in the same way Buddhist monks can safely walk through a battle-field. By establishing ourselves in the Yamas & Niyamas, we can face each day unaffected by the negativity in the world.
The practice of truthfulness, non-violence and non-stealing enables a person to know where to step so as not to lose their reputation. It becomes clear to a practitioner that taking something that is not theirs will only weaken them of their fierce power of restraint and will ultimately decide not to make the choice that has toppled so many powerful men. Practicing the Yamas and Niyamas will make people feel safe around you and promote greater fulfillment in all that you do. This is good for you and good for the world.
To learn more about these and other ethical practices visit these websites – Fair Trade: www.transfairusa.org; Eradication of slavery: www.assetcampaign.org; Animal friendly information: www.vegan.org. To learn more about Patanjali's Yoga Sutra's visit http://dailyreadings.com/sutras_1.htm, and visit PeaceKeeper Cause-Metics at www.iamapeacekeeper.com.
Filed under: Uncategorized | 1 Comment »
Posted on
November 27, 2009
by 3BL Media
The year 2009 has brought many hardships and challenges to the global community. Despite that fact, this week the U.S. gives its annual thanks for continued abundance and prosperity (national holiday Thanksgiving). While it may not seem so on the surface, there is much to be thankful for the world over. As we say on this side of the Big Pond, the best way to keep a positive attitude is by "counting your blessings." The following is a progress report of some of the important initiatives enacted by the G20 nations to safeguard the global economy for the future.
The Era is Over
Several months ago, the G20 nations promised that the "era of banking secrecy is over." Also pledged in the G20 Summit and in discussions throughout the world this year is that the era of U.S. "cowboy economics" is over as well. The world's nations are adopting a more cautious approach to finance using the painful lessons learned over the past decade.
Read More


New Initiatives in the Global Top 20 Economies
An angry and determined G20 met this Spring in London to discuss the ending of an era of American-style "anything goes" capitalism. The death-knell came for U.S. financial supremacy as the follow-the-leader crowd of G20 countries followed the American bulls right off the cliff to insolvency. To resolve the crisis, huge banking bailouts were drafted by Germany, France, the UK, and the U.S. as well as emergency measures throughout the European Union and G20 nations. The crisis has ushered in a new era of global fiscal responsibility. The G20 has created a template for global regulatory changes.
Read More


Policy Changes at the International Monetary Fund
The IMF, one of the top strategists of the G20 Summit in London, agreed to increase resources for troubled economies to $750bn. The G20 will also contribute $250bn to boost trade. UK Prime Minister Gordon Brown said the G20 will "crackdown on tax havens" and draft "stricter controls of bankers' pay and bonuses."
Read More


G20 New Initiatives: Pittsburgh Summit
The major outcome of the Pittsburgh Summit (September 2009) is that the G20 will permanently replace the G8. The financial crisis has revealed how interconnected the 20 nations are in the 21st century global economy. The new G20 policy will include developing countries like China, India, Brazil, and Indonesia.
Read More

Click for the latest updates on Good-B
Filed under: FMR, News | Leave a Comment »